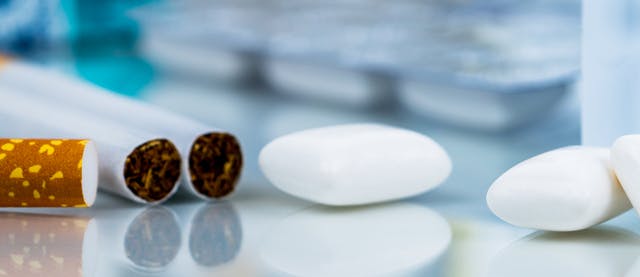 Whether you want to quit smoking a pack a day or quit smoking socially, you likely know there are many quit-smoking products available to help. But which are the best products to quit smoking? From lozenges to gum and patches, read on to learn about a variety of stop-smoking products and choose the best one for your lifestyle. If you're still not sure, check out our product selector quiz.
Benefits of Quitting Smoking
No matter how long or how much you have smoked, you will benefit from quitting tobacco products at any point.1 Not only does it benefit your health, but it also benefits people around you by protecting them from secondhand smoke.2 Using quit-smoking products can help you to take this life-changing step. Some of the primary benefits of quitting smoking include, but are not limited to:3

Improving your health and quality of life
Reducing the risk of premature death
Adding up to 10 years to your life expectancy
Reducing the risk of adverse health effects, from reproductive issues to cardiovascular diseases, chronic obstructive pulmonary disease (COPD), and cancer
Helping those who are diagnosed with coronary heart disease or COPD
Benefitting pregnant women's health and the health of their fetuses and babies
Why You Should Use Nicotine Replacement Products to Quit Smoking
Nicotine is the highly addictive drug in tobacco products that keeps you smoking.4 In fact, it is so addictive that among adult smokers who wanted to quit smoking, only seven percent were successful in quitting for six to twelve months.5 But there is hope, and using nicotine quit-smoking products is one way to successfully stop smoking.
Whether it's the first time you're quitting or not, your body will go through nicotine withdrawal.6 This leads to symptoms like an increased appetite, irritability, anxiety, and disrupted sleep patterns, and the first few days feel the worst.7 These physical symptoms of withdrawal should only last a few weeks, but social situations, behaviors, or even locations might trigger the urge to smoke, making it harder to stop smoking.
Nicotine replacement therapy is one method to help you quit smoking. When you use nicotine quit-smoking products, they help you gradually withdraw from smoking by administering measured amounts of nicotine without the harmful chemicals from cigarette smoke.8 Nicotine replacement therapy is available by prescription and over-the-counter, through items like gum, lozenges, and patches. When you use these kinds of stop-smoking products, the amount of nicotine decreases over time. It's important to complete treatment as listed on the product packaging, but if smokers still feel the need to use nicotine replacement products after that time period, they should talk to their doctor.9

Types of Quit Smoking Products
In general, nicotine replacement therapy lasts about two to three months.10 Be sure to check with your doctor to find out which product is right for you. Do not smoke/vape/use other tobacco products and use these nicotine quit-smoking products at the same time.
Gum
Nicotine gum is a popular form of quit-smoking products. It contains a small amount of nicotine that is absorbed through the lining of your mouth as you chew it, when used according to package directions.11 When you first start using nicotine gum, you can chew a piece every one to two hours, up to 24 pieces a day.

Nicotine gum is one of the best products to quit smoking because it is available without a prescription and easily helps control sudden nicotine cravings.12 However, you must use it repeatedly throughout the day to control your withdrawal symptoms, and it might stick to dental appliances like braces or partials.

The biggest benefits of nicotine gum include that it offers a convenient and effective way to reduce cravings and you can take gum anywhere you go. You can control your nicotine intake throughout the day and keep your mouth busy chewing gum. And you have the option of chewing an extra piece of gum within the hour for stronger or frequent cravings.
Lozenges
Nicotine lozenges are similar to nicotine gum in that they are absorbed into the body through the lining of your mouth.13 Simply place a lozenge in your mouth, occasionally moving it from side to side and allow it to slowly dissolve.

Nicotine lozenges are also available without a prescription, control sudden nicotine cravings, and they won't stick to your dental appliances. Like gum, however, it must be used repeatedly throughout the day to control cravings and withdrawal symptoms.

Nicotine lozenges have several benefits, depending on what you want out of your quit smoking product. Lozenges are easy to take wherever you go, whenever you want and are practically unnoticeable. They're good options if you want to control your nicotine intake, want fast craving relief and can't or don't want to chew gum.
Patch
The nicotine patch is another effective quit-smoking product. It is a small patch, like a sticker, and you apply a new patch every day. The nicotine absorbs into your body through the skin.14 Simply apply the patch to a hairless part of your body.

Like gum and lozenges, the nicotine patch is available without a prescription, is easy to use, and can be used to help control cravings and withdrawal symptoms for up to 24 hours.15

Nicotine patches also have a few special benefits over some other nicotine replacement products. Patches give you a full-day of use in a discrete manner that you can set and forget.
If you choose to go with one of these stop-smoking products, remember to consider your lifestyle and which may work best for you. Many of these products are available in varying strengths of nicotine to help you adjust to your withdrawal effectively. If you've tried to quit smoking cold turkey and found it a challenge, consider some of these nicotine replacement therapies instead, and don't give up!