How to Manage Your Cigarette Cravings
Cigarette cravings can derail your quit fast. The trick is to get ahead of your cravings by understanding your smoking triggers and patterns. Your smoking patterns are unique, so it's important to know exactly when and where they usually strike.

The benefits of tracking your quit.
It's easier to quit when you know your smoking triggers. Many of them occur during certain times of the day or specific daily events.
By learning what sets off cigarette cravings for you, you're able to prepare ahead of time or avoid those situations altogether.
To get started, take notice of the times you smoke while you're planning to quit. That way, when you do start your quit, you're ready to face the tough moments head on.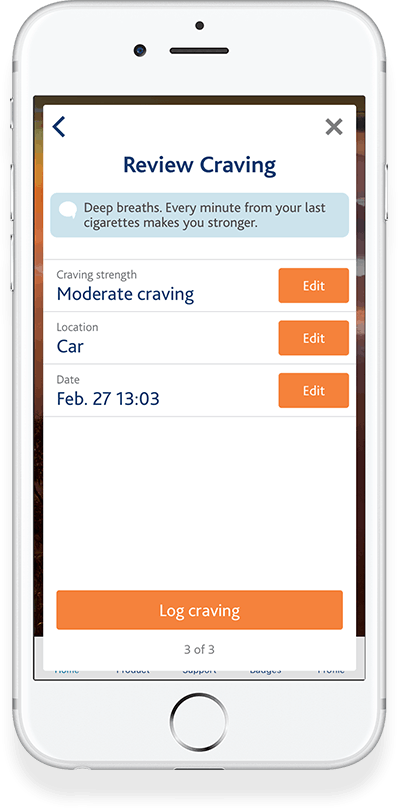 Here are some common triggers:
In the Car

Whether it's rush hour gridlock or the ride home after a long day, many smokers associate cigarettes with driving. While it can be tough, you can stay strong. See how Gottam managed to avoid slipping up while he was driving.


Stress


Stress is one of the most common causes for a slip-up. Whether it's work related or something at home, stress can be difficult to plan for. It helps to have support that's there for you right when you need it.


A Reward


A cigarette can often be a reward for finishing a work assignment or getting through a long meeting. While it's okay to reward yourself, find alternatives to smoking that will keep you feeling good and smoke-free.


Out with Friends


Smoking is often a social habit. It can be tough to stay strong when your friends head outside for a happy hour cigarette. Sometimes a distraction can be just what you need. Many quit apps have quick games to keep your mind off smoking.