How to use Nicorette Lozenge.
Nicorette® Lozenge and mini Lozenge offer a quick and discreet way to overcome cigarette cravings.
Getting started.
Follow the directions below to get the most out of every lozenge.


Choose a quit date and start using your Nicorette Lozenge on that date.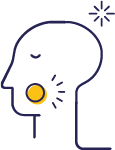 Place the lozenge in your mouth, occasionally moving it side to side.
Allow it to slowly dissolve (about 20-30 minutes) and try to minimize swallowing
Do not chew or swallow the lozenge
Do not use more than 1 lozenge at a time or continuously use 1 after another
Do not use more than 5 lozenges in 6 hours or more than 20 lozenges per day


Use at least 9 lozenges per day for the first 6 weeks.


Don't eat or drink 15 minutes before or while you're using Nicorette Lozenge.


Stop using Nicorette Lozenge after the full 12 weeks.
If you still feel the need to use the lozenges for a longer period, talk to your healthcare provider
Refer to product labeling for complete directions of use and other information